Jacqui Palumbo Apr 12, 2020
Lately I've been having a hard time looking at photographs. But as a writer who often covers photography, it is nearly impossible for me to take a break from them.
I am cooped up at home for the fifth week while my neighborhood in Brooklyn has become a breeding ground for the novel coronavirus. My view of the world has been primarily reduced to what I see through electronic screens. My feeds are mostly images—if not from photographers I follow, then from the news.
Photographs of empty spaces, even innocuous ones, are unsettling. But scenes of people, of interaction and touch, hit me hard as well. No matter when a photograph was taken, whether last week or years ago, my instinct is to warn the subjects—don't touch each other; please be careful.
Looking at photographs of life as it was just a month ago causes my mind to occupy two places at once. I feel the longing to return to the cadence of daily life, but I am alarmed by depictions of it. It seems as though the complexity of what was normal is somehow too much for me to process: My mind adds weighty implications to mundane details; it connects threads to our current crisis that aren't there.
To cope, I've turned my attention to pictures of uncomplicated beauty and small pleasures, in the same way I've used visualization techniques during meditation to clear my head. In particular, I've taken solace in the late Imogen Cunningham's work—the way she captured light gently curving on flowers or skin in soft black-and-white film.
Cunningham's botanicals aren't the types of pictures that usually hold my attention, but they resonate with me now for their simplicity: Light against an object is the very foundation of photography. Peering at the whorls of magnolias or the strong lines and shadows of agave stalks, there's a clear logic of geometry, a harmony of forms that makes sense to me when nothing else does.
It's fitting that Cunningham is giving me reprieve. She sought purity of subject matter in her photography along with the other members of the West Coast group she co-founded in 1932, including Ansel Adams and Edward Weston. These modernists banded together to photograph the world around them; it was a diversion from Pictorialism, which often centered on dreamy landscapes or allegorical scenes through soft-focus lenses. They named their coterie Group f/64, a reference to the aperture setting which gives the sharpest clarity from foreground to background.
"There was a pursuit in the art world to see something really cleanly and precisely and with clarity," said Meg Partridge, Cunningham's granddaughter, in 2011, comparing the similarities the photographer shared with painter Georgia O'Keeffe.
Cunningham's earliest work flirted with pictorial sensibilities, but by 1920, her style had shifted. Living in San Francisco with her husband, the artist Roi Partridge, she stayed mostly at home to care for their three young boys. Like many working photographers are having to do right now while spending their days indoors, Cunningham began to observe what was available to her: her children, her garden, and herself. Many of her plant studies were taken during this time, including her beloved magnolia blossoms.
The artist liked to say she photographed "anything that can be exposed to light," as her granddaughter recalled in 2011. "More than anything else, her prolific determination to photograph every day made her the photographer she was."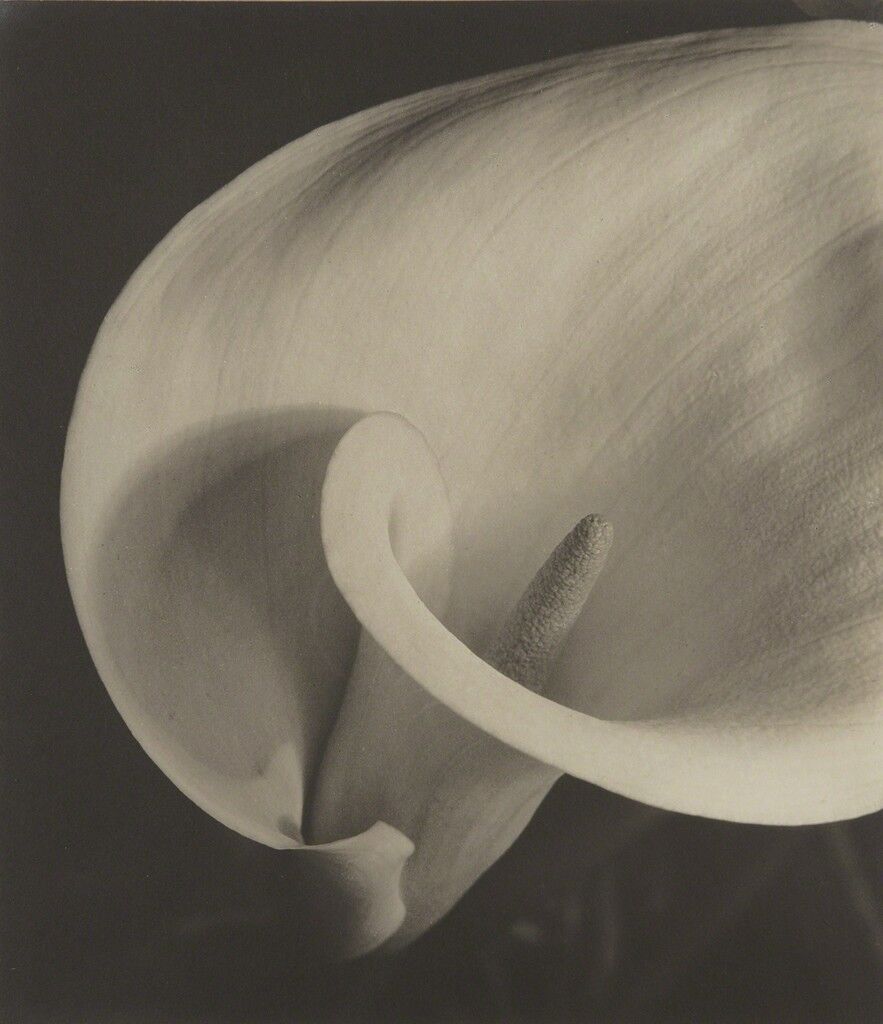 Cunningham's early images would later influence the direction of Group f/64, but her focus on observational scenes didn't spring from thin air. Before settling in the Bay Area and starting a family, Cunningham had studied for a period in Germany, where European ideas of "straight photography" had already taken root.
Cunningham photographed many things throughout her life, including industrial architecture and portraits, but her florals have a graceful and sensual nature that made them standouts in her oeuvre. And they have given me a sense of comfort and ease in a time that is anything but.
The curling petals and lithe stems find parallels in her nude portraits, which she took of women—including herself—and men. Her portrait of Roi Partridge in the buff on Mount Rainier in 1915 was one of the first nudes of a man ever taken by a woman (a Seattle newspaper deemed her an "immoral woman" for firing the shutter). In it, Partridge is featured small against the sweeping landscape. Later, Cunningham sought to close the distance between herself and the figures she photographed through closely cropped compositions; bodies gently unfurl, as inviting as the calyces of flowers. Whereas Weston's nude portraits were perfectly crisp and polished, Cunningham allowed soft lines and expressive shadows—a more honest rendering of intimacy.
Though Group f/64 disbanded by the end of 1940, with some members departing for other cities and some taking up the call for humanist documentary work, their association became a pivotal moment in photography. The group's desire to reveal the simple poetry of the world around them—be it Adams's beloved alpine landscapes, Weston's curvilinear bell peppers, or Cunningham's supple petals—became a declaration for subsequent generations to hear and follow with their own lenses.
Their edict reaches me, too, as I search for photographs to write about; to share with readers who are similarly listlessly scrolling through their feeds, searching for something that might lift their anxiety for a moment. In Cunningham's work, in her search for purity, maybe we can find clarity, too.
Jacqui Palumbo is a contributing writer for Artsy Editorial.