Charlotte Jansen Dec 18, 2019
Protests, the introduction of Instagram, and social revolution have shaped the art of the past decade. During this period, as art-market trends rose and fell, there were seismic shifts in our perceptions of contemporary art and art history. The 2010s have seen some historic art moments, some of which sparked full-blown movements. Here, we share seven such instances, ranging from momentary fads to lasting developments that will shape the art world for years to come.
An art history overhaul began.
Street view of Guerrilla Girls, Is It Even Worse In Europe?, Whitechapel Gallery, 2016. © Guerrilla Girls. Photo by David Parry/PA Wire. Courtesy of the Guerrilla Girls.
In 2016, artist-activist collective the Guerrilla Girls revealed new statistics on representation at European museums. The project, commissioned by the Whitechapel Gallery, found an unsurprising yet overwhelming bias towards Western male artists. And while inequality endures, that doesn't mean that artists and curators haven't been raising their voices about it. In the last decade, urgent questions have been put to institutions, such as who gets to be a part of art history? And why?"Art historians and curators have increasingly recognized artists who have been underrepresented in art texts and in exhibitions," said Gwen Chanzit, the curator of the Denver Art Museum's groundbreaking "Women of Abstract Expressionism" exhibition in 2016. The show realigned the movement with its female masters—painters like Jay DeFeo, Grace Hartigan, Lee Krasner, and Joan Mitchell—who have long been in the shadow of famous male artists, despite contributing with equal voracity to mid-20th-century painting. Many of these artists also had recent retrospectives, and some, like Krasner and Mitchell, set new auction records. "Recognizing works by artists of greater diversity in gender, ethnicity, and worldview has finally become a priority," Chanzit added.Lee KrasnerThe Eye is the First Circle, 1960"Abstract Expressionism" at Royal Academy of Arts, LondonAll women lineups in particular have been a familiar gallery gambit. Traveling surveys like "Radical Women: Latin American Art, 1960–1985" and "We Wanted a Revolution: Black Radical Women, 1965–1985" sought to rectify art history's shortcomings."I have seen a new awareness, and strong female curators and writers have contributed to a gradual change," wrote Manuela Wirth, co-founder and president of Hauser & Wirth. The gallery has staged several shows dedicated to women artists, including a sprawling 2016 group exhibition of abstract sculpture that inaugurated its Los Angeles gallery.
Major exhibitions have been staged on the subjects of representation, gender, race, and sexuality, bringing attention to vital emerging artists such as Juliana Huxtable, Wu Tsang, and Victoria Sin. The 50th anniversaries of the Stonewall riots in the U.S. and LGBTQ+ rights in the U.K. saw historic shows taking place at the Brooklyn Museum, the Leslie-Lohman Museum, and the Contemporary Arts Museum Houston. There have been overdue solos for artists long left out of the mostly white, Western, male-dominated canon. Highlights include Joan Jonas at Tate Modern; Archibald Motley at the Whitney; Kerry James Marshall at MCA Chicago, the Met, and MOCA; and a touring retrospective of work by Alice Neel. Surveys on the work of Alma Thomas at the Studio Museum in Harlem and Luchita Hurtado at the Serpentine Galleries made considerable impacts. In 2017, Lubaina Himid made history as the first woman of color and the oldest artist, at 63, to be awarded the Turner Prize in the U.K. Meanwhile, overlooked women artists already in their seventies, eighties, and nineties gained representation with blue-chip galleries: Rose Wylie joined David Zwirner 2017; Luchita Hurtado joined Hauser & Wirth in 2018; and Howardena Pindell joined Victoria Miro in 2019. Carmen Herrera, now 104, started working with Lisson in 2009 and opened a retrospective at the Whitney in 2016,
The market for African art grew internationally.
Installation view of Zak Ové, Black and Blue: The Invisible Man and the Masque of Blackness, at 1-54 Contemporary African Art Fair, London, 2016. Photo © Victor Raison. Courtesy of 1-54 Contemporary African Art Fair.The international ascent of work by contemporary African artists over the past decade has been unquestionable. In addition to the emergence of promising artists like Njideka Akunyili Crosby and Amoako Boafo, we witnessed the creation of new art fairs, galleries, and auction departments dedicated to artists of the continent's 54 countries and their diasporas."The rise of contemporary African art is a response to the needs of the global art market," said Chicago-based gallerist Mariane Ibrahim-Lenhardt, who represents artists of Africa and the diaspora. "Collectors and institutions are eager to find a new voice and want African artists in their collection because of their aesthetic and political statement."Amoako BoafoSunflower Shirt, 2019Mariane Ibrahim GalleryAmoako BoafoCobalt Blue Earring, 2019Mariane Ibrahim GalleryDefining art according to its place of production is problematic, especially given the history of colonialism. And while the market tends to flatten the dozens of cultures of Africa into a monolith, events over the past 10 years have strengthened a dialogue with the West, leading to deeper engagement with the diverse practices of artists hailing from across the continent. In London in 2013, Touria El-Glaoui founded the best-known art fair dedicated to contemporary African art, 1-54 Contemporary African Art Fair; further editions in New York and Marrakech launched in 2015 and 2018, respectively. Other fairs like Lagos Photo and Art X Lagos took off, while the rebranded ArtJoburg experienced a "rebirth." Auction houses, including Sotheby's Modern and Contemporary African Art Department, met the demands of a "bullish" market in London; while Bonham's (whose African Modern & Contemporary Art department dates back to 2007) saw record sales, including top lots by artists including Irma Stern and Ben Enwonwu MBE.
Cities including Accra, Addis Ababa, and Lagos gained recognition for their art scenes and new galleries—like Gallery 1957, which opened in Accra in 2016, and Addis Fine Art, which also opened that year, in Addis Ababa. South Africa's groundbreaking Goodman Gallery opened its first overseas location in London in 2019. We saw the first Nigerian and Ghanaian pavilions staged at the Venice Biennale, in 2017 and 2019, respectively; and the opening of the largest museum of contemporary African art in the world, Zeitz MOCAA, in Cape Town in 2017.
Installation view of "Gravity and Grace: Monumental Works by El Anatsui" at the Brooklyn Museum, 2013. Courtesy of the Brooklyn Museum.Exhibitions by seminal contemporary African artists at Western museums also facilitated more scholarly conversations. In 2013, the El Anatsui retrospective at the Brooklyn Museum positioned the Ghanaian artist as a leader in contemporary art; that same year, Tate Modern's show of 100 works by Ibrahim El-Salahi promoted the long-underrecognized artist's contributions to modernist painting. We also witnessed the largest exhibition to date of pioneering West African photographer Malick Sidibé at the Fondation Cartier in Paris in 2017. It has been a breakthrough decade for artists including Ibrahim Mahama, Hassan Hajjaj, Zanele Muholi, and Yinka Shonibare CBE. They've not just played a part in reframing the "African" narrative through their work, but have also opened independent spaces and curated shows to support artists from their communities and circumvent structures where racism is still endemic.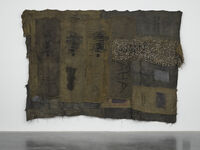 4 ImagesView SlideshowThere were losses, too: Curators Bisi Silva and Okwui Enwezor passed away. Their respective pioneering ideas inspired a new generation of artists and changed the dialogue around contemporary art from the African continent, and how it might be presented and perceived.
Figurative painting got personal and political.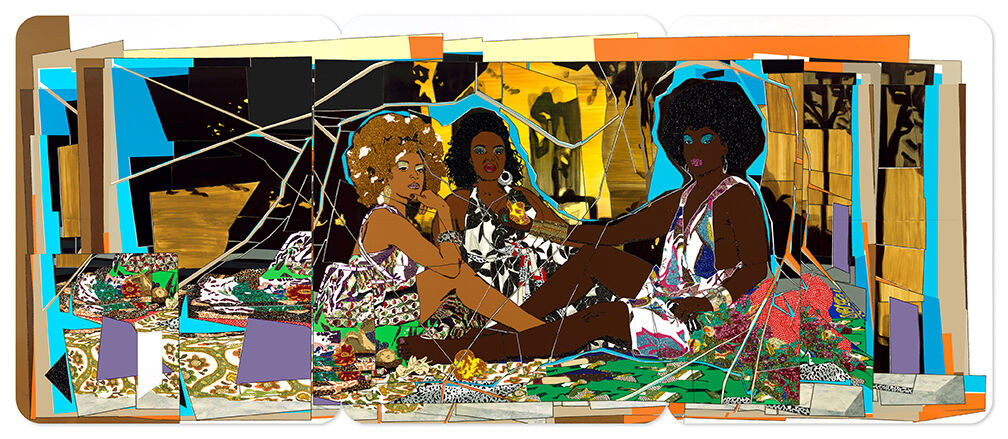 Mickalene Thomas, Le Déjeuner sur l'herbe: Les trois femmes noires, 2010. © Mickalene Thomas. Courtesy of Mickalene Thomas Studio.In the context of rethinking representation, figurative painting saw a revival. Distinct from historical figurative painters, artists working today have been tapping into their own lives, families, communities, and histories for inspiration and authenticity. This decade put the spotlight on celebrated artists such as Mickalene Thomas, whose unapologetic, "proud black lesbian" gaze has not only given visibility to the women in her life, but has also drawn attention to the way history has removed the presence and importance of black figures in painting. "It's part of my responsibility to provide some of that agency," Thomas told Artsy. "There's a huge gap missing in museum collections."Thomas has seen a marked increase in interest in her work, in terms of both the market and museum opportunities, over the last 10 years, alongside figurative painters like Derrick Adams, Lynette Yiadom-Boakye, Claudette Johnson, Henry Taylor, Liu Xiaodong, and Elizabeth Peyton—all of whom often paint people they know intimately.
Many artists painting figures in the 2010s are focused on the forgotten and the excluded, revising portraiture traditions. The influence and dominance of photography in our visual world—and particularly, interest in West African studio photography and the female gaze throughout the 2010s—has also played a significant role in the resurgence of figurative painting.For many younger artists, drawing on personal and found photography is a natural part of their process. British-Nigerian painter Joy Labinjo, a rising star in contemporary painting who just opened her first institutional solo show in the U.K., at the BALTIC Centre for Contemporary Art, uses family photo albums as references. Labinjo explained that for her, the figure is "the most natural thing to paint and what I think oil paint was made for." She added that "it's a great way to record society."
Robin F. Williams, Eye on the Time, 2018. Courtesy of Robin F. Williams and P·P·O·W, New York.Brooklyn-based Robin F. Williams, meanwhile, "never chose to paint figuratively," she said. "I just couldn't resist it. If painting is in large part about desire, and women are taught to sublimate their desires, then painting exactly what I want to paint is imperative."
Instagram spurred an experiential art frenzy.
Installation view of "teamLab Borderless" at the MORI Building Digital Art Museum, Odaiba, Tokyo, 2018. © teamLab.Love it or hate it, Instagram—which launched on October 6, 2010—made an indelible impact on the art world.From art fairs to museums, the irresistibly Instagrammable installation has become a cultural phenomenon. It has no doubt contributed to the epic success of large-scale works seen across the globe: Yayoi Kusama's unforgettable "Infinity Mirror Rooms"; teamLab's hallucinogenic light-based installations in Tokyo; and Olafur Eliasson's tunnel of dense fog, Your blind passenger (2010), now showing at Tate Modern.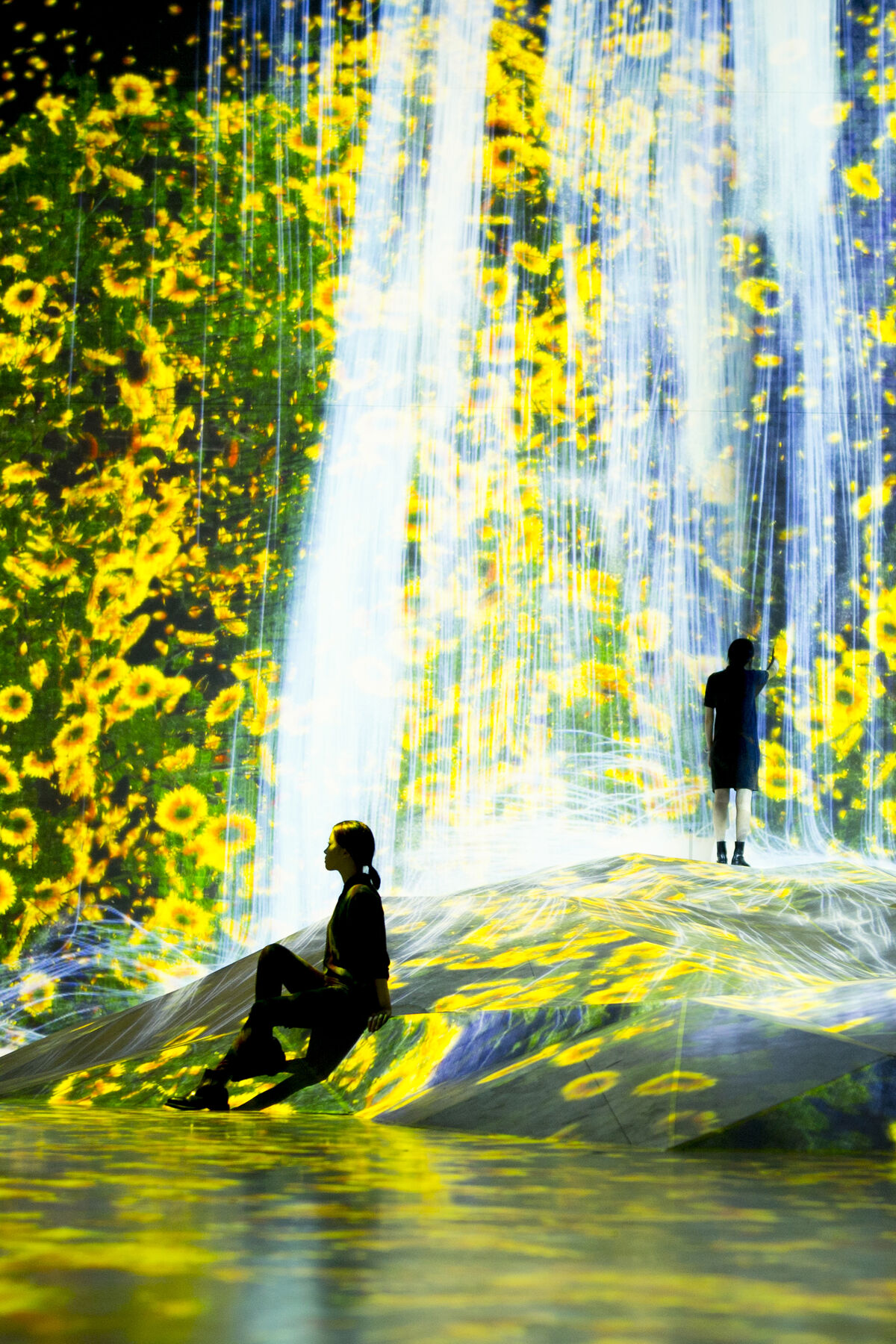 Installation view of "teamLab Borderless" at the MORI Building Digital Art Museum, Odaiba, Tokyo, 2018. © teamLab.
Olafur Eliasson, Your blind passenger, 2010. Photo by Anders Sune Berg. Courtesy of the Tate.As Instagram paved the way for the experience economy, it drew attention to experiential art. Virtual reality (VR), augmented reality (AR), and video installations encourage visitors to sit, smell, touch, cry, and sleep with art. Some of the decade's most memorable artworks were experiential: ball pits and massage chairs courtesy of Jon Rafman; Pipilotti Rist's cocoon-like video installations with cushions and duvets; Kahlil Joseph's enveloping screens and sounds.The culmination of four years of work, Random International's Rain Room (2012) first opened in 2012 at the Barbican in London and drew hours-long queues—"which was entirely unforeseen," said Hannes Koch and Florian Ortkrass of Random International. The falling water-filled environment became a phenomenon as it traveled to New York, Shanghai, Los Angeles, and Busan, before it was permanently installed at the Sharjah Art Foundation in 2018.
Installation view of Random International, Rain Room, 2012. © Felix Clay. Courtesy of Barbican Art Gallery.When the Hirshhorn Museum and Sculpture Garden in Washington, D.C., held an exhibition of Kusama's "Infinity Mirror Rooms" in 2017, the institution experienced a major boost in attendance that year, welcoming over 1 million visitors. Hirshhorn director Melissa Chiu noted that the exhibition posed an unusual scenario: "It had art-historical merit in re-evaluating the importance of Kusama's 'Infinity Mirror Rooms,' while holding great appeal to a younger demographic," she said. Ironically, these photogenic installations are often about total immersion and the suspension of time—so has our appetite for Instagramming killed the artists' intentions? Or is the trend a good thing, if it gets more people interacting with contemporary art?
The art world embraced craft.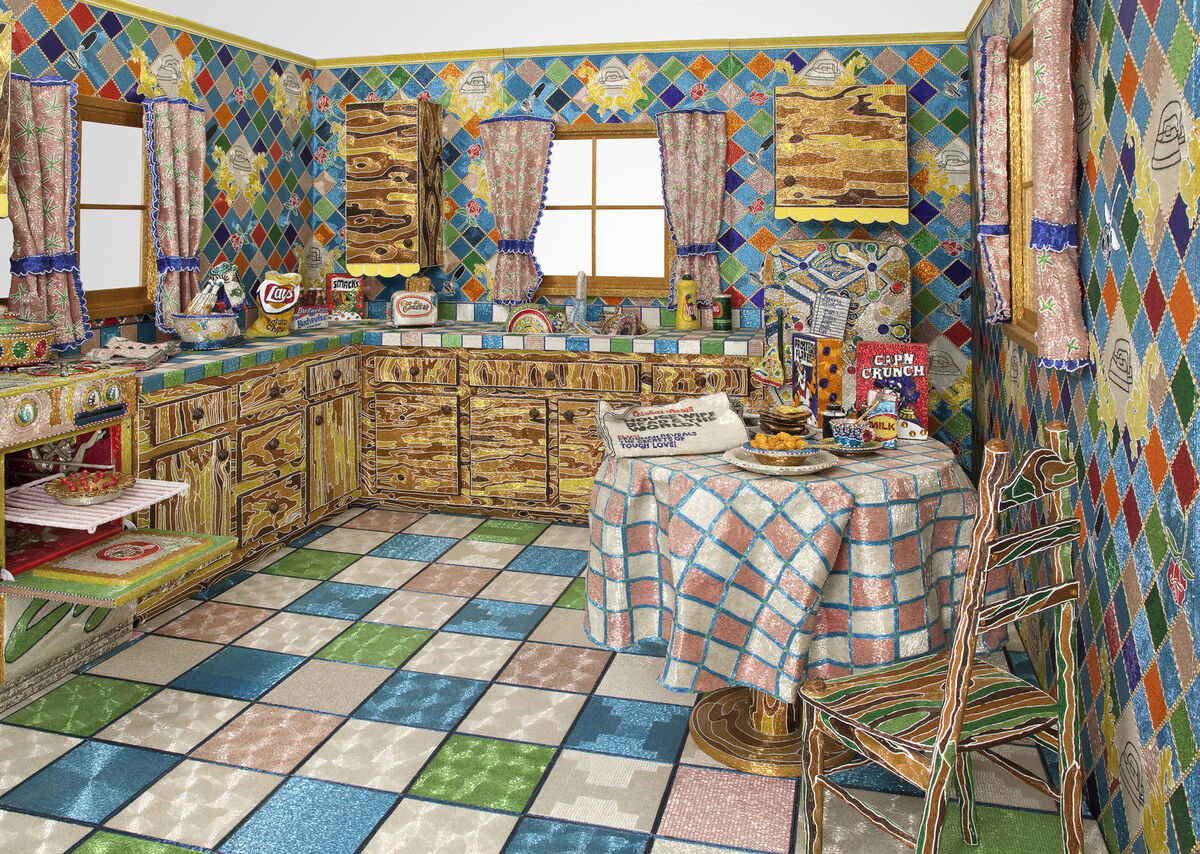 Liza Lou, Kitchen, 1991-96. © Liza Lou. Photograph by Tom Powel. Courtesy of the Whitney Museum of American Art, New York.Sewing is at the center of Billie Zangewa's art practice; she is one of many contemporary artists who employs craft-based techniques in their work. "I chose it as a way to express my identity, by taking a traditionally female pastime and making it into a sophisticated and contemporary form of self-expression," Zangewa said. In recent years, we've seen a widespread embrace of craft practices such as weaving, embroidery, quilting, and throwing clay. These tactile techniques have been celebrated by critics everywhere, from the New York Times to The Independent—which speaks, in part, to our increasingly digital world. Joana Choumali, the winner of the 2019 Prix Pictet, incorporates embroidery into her photo-based works. "The act of embroidery is like a meditation that brings me at the center of myself," Choumali said. Both pretty and purposeful, the return of craft has placed greater focus on forgotten legends such as Anni Albers, and living talents like Sheila Hicks. Just this past fall, the Whitney mounted "Making Knowing: Craft in Art, 1950–2019," on view through January 2021. Digging into the museum's permanent collection, it cements the central, powerful role of craft over the past seven decades, with masterworks like Liza Lou's show-stopping Kitchen (1991–96)—a mesmerizing, full-scale replica of a suburban kitchen covered in millions of beads.Joana ChoumaliEveryday is enough, Series Alba'hian, 2019Gallery 1957Proof of the art world's continued interest in weaving and sewing practices was evident at the opening of the new MoMA, and at Frieze London in 2019, where Para Site director Cosmin Costinas curated a special section of woven works. Costinas noted that textiles can take on a political punch, making visible "the histories and continuous legacies of the colonial catastrophe, from the economies around textiles to current forms of exploitation and political complicity."Enthusiasm for ceramics has been even more prominent as audiences continue to gravitate towards works by California Clay Movement artists Ken Price, Peter Voulkos, and Ron Nagle, as well as Betty Woodman (who passed away in 2018). Generations of younger artists, like Francesca diMattio, Jesse Wine, Aneta Regel, Woody De Othello, and Julia Haft-Candell have forged their own paths; while others like Arlene Shechet, Shio Kusaka, and Sterling Ruby have brought the medium into blue-chip galleries.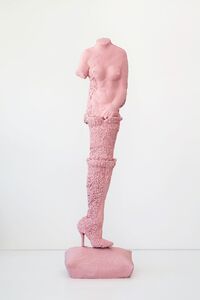 Ceramic artistsView Slideshow7 ImagesCraft techniques are some of the oldest media in human history, but this decade has proved there is still boundless inspiration to be found in them.
Street art went mainstream.
Companion, an inflatable sculpture by artist Brian Donnelly, known professionally as KAWS, is towed through Victoria Harbour before the opening ceremony for its exhibition in Hong Kong on March 22, 2019. Photo by Isaac Lawrence/AFP via Getty Images.In the 2010s, we watched street art become the new Pop art. Artists working with super-slick, commercial finesse and mass appeal have emerged and created a schism in the genre, dividing those who have adopted street art as an aesthetic and those who are actually still creating work on the streets. Exhibitions on Keith Haring and Jean-Michel Basquiat—arguably the first artists to bring street art into the gallery world—have traced the evolution of the influential art form. Street artists continue to challenge perceptions of art and toe the line between high culture and popular culture.Banksy is by far the most prominent street artist who broke into the mainstream. The politically motivated Bristolian artist became a phenomenon this decade, between his 2010 documentary Exit Through the Gift Shop; his dystopian theme park Dismaland, which opened in 2015; and more recently, his auction house stunt in which a £1 million artwork shredded itself upon being sold.
Banksy, Love Is in the Bin, 2018. Photo by Ben Stansall/AFP via Getty Images.Meanwhile, KAWS has taken his monumental versions of his "Companion" toy character to sculpture parks, harbors, and galleries around the world, and Shepard Fairey created posters for the women's marches. JR made splashy, monumental wheatpastings across the globe—even covering the Louvre's iconic pyramid—as well as an Oscar-nominated film with the late Agnès Varda.Despite this, street art still hasn't evolved very far in terms of critical appraisal. MOCA's 2011 "Art in the Streets" exhibition, curated by Jeffrey Deitch, Roger Gastman, and Aaron Rose, set a precedent for understanding street art and the role it plays in culture. But few shows have continued that investigation.5 ImagesView Slideshow
Gastman did, however, go on to curate "Beyond the Streets," a group exhibition in Los Angeles and New York. "Many great artists that honed their skills on the streets by doing graffiti and street art have put a lot of focus on their studio work the last 10-plus years," Gastman said. "They have been able to expand on their ideas and style with the same raw energy as on the streets."Gastman considers the developments of the past decade as being positive for street art. "Collectors, museums, and the media can't help but pay attention. But even more importantly, as these artists have grown, so has the scene around them," he said. "We all grew up, have jobs, and we want to collect what we know and love—and that is not necessarily the art-world norm."
Zombie Formalism had a moment.
Dan ColenLet's have a war, 2016GagosianIn a widely read article published in New York magazine in 2014 titled "Zombies on the Walls: Why Does So Much Abstraction Look the Same?" the critic Jerry Saltz brought the art world's attention to the sticky notion of Zombie Formalism. The term, originally coined by the artist and writer Walter Robinson, applied to a movement that had emerged in the early 2010s. Zombie Formalism was associated with a certain abstract painterly style replicated among young artists to feed hungry collectors who purchased and flipped. In essence, Zombie Formalism was painters painting paintings—or, as Chris Wiley wrote for artnet News, "a new kind of court painting." Slammed by critics and snapped up by collectors, works by a swathe of male artists such as Lucien Smith, Dan Colen, Parker Ito, and Hugh Scott-Douglas were some of the most sought-after.