Benjamin Sutton Oct 17, 2019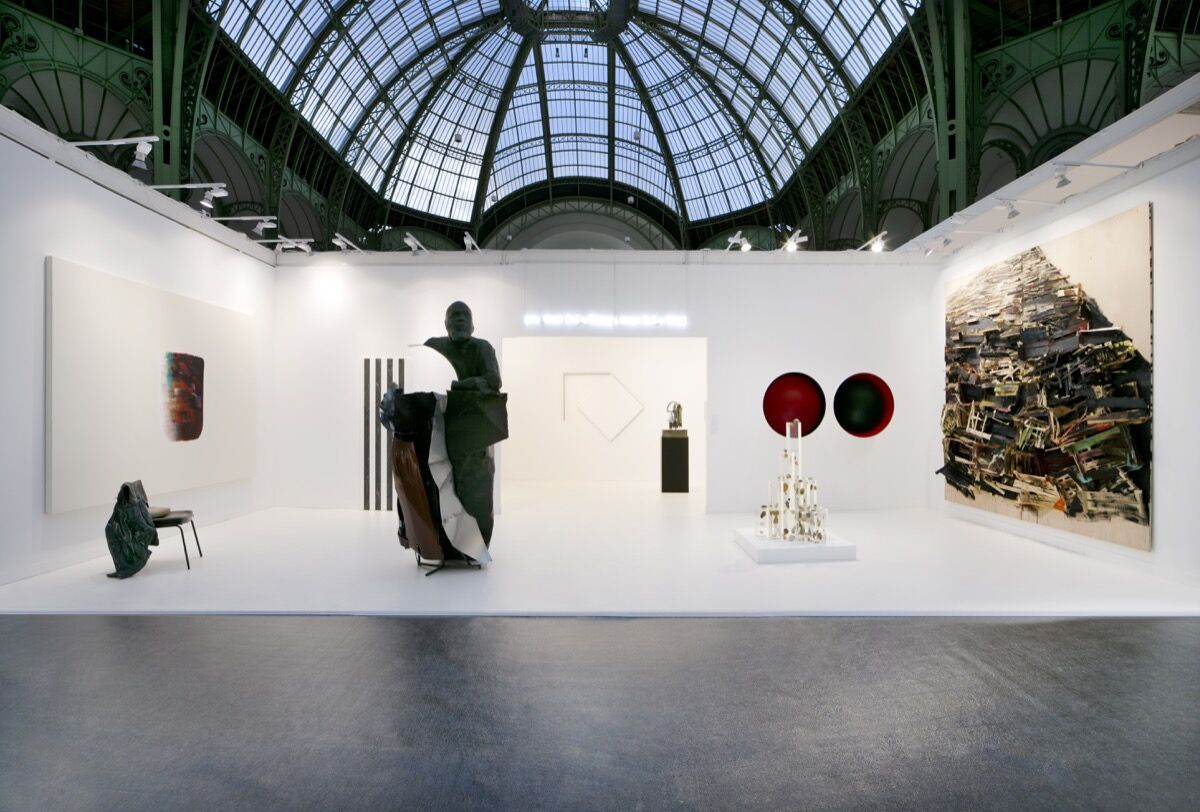 Installation view of Kamel Mennour's booth at FIAC 2019, Paris. © The artists (from left to right) : ADAGP Lee Ufan, ADAGP Tatiana Trouvé, ADAGP Daniel Buren, ADAGP Mohamed Bourouissa, Douglas Gordon / Studio lost but found / VG Bild – Kunst, Bonn 2019 , ADAGP François Morellet, ADAGP Camille Henrot, Alicja Kwade, ADAGP Anish Kapoor, Tadashi Kawamata Photo. Courtesy of the artists, Studio Morellet, and Kamel Mennour, Paris/London.A little rain couldn't dampen the mood at Wednesday's preview of the Foire Internationale d'Art Contemporain (FIAC), Paris's marquee art fair. Throngs of VIPs poured into the Grand Palais to see what the 199 galleries participating in the fair's 46th edition have to offer. The works on offer skew distinctly European, though some of the most arresting presentations are those devoted to artists from other continents—namely Africa and North America. Plus, the booths in the fair's Lafayette Sector for emerging galleries are unanimously strong. Here, we offer a guide to FIAC's must-see hits.

Grand Palais, Booth K02
With works by Romuald Hazoumè and Chéri Samba
Installation view of Magnin-A's booth at FIAC 2019, Paris. © Grégory Copitet. Courtesy of the artist and Magnin-A.Magnin-A, which focuses on modern and contemporary African art, has devoted its presentation almost exclusively to the work of Beninese artist Romuald Hazoumè. The artist's mask sculptures, made in part from found plastic containers, stretch across the handsome booth's teal walls. (There's also one large painting by Chéri Samba.) Hazoumè's masks, each priced at €32,000 ($35,000), incorporate flourishes like feathers, paintbrushes, and even stiletto heels to symbolize hair.But the booth's star attraction is Hazoumè's newest work on view, a modified scooter based on those used to transport gas across the Benin-Nigeria border, though this one is equipped with bespoke glass containers rather than plastic ones. "He's outfitted the scooter with glass bottles to evoke the precarity of this practice for the men who drive these scooters, many of whom are injured or even killed in the accidents that often happen," explained gallery assistant Thaïs Giordano. For €150,000 ($165,000), a collector could zip home from the fair on Hazoumè's armored scooter.

Galerie Joseph Tang
Grand Palais, Booth H03
With works by Daiga Grantina
Installation view of Galerie Joseph Tang's booth at FIAC 2019, Paris. Courtesy of Galerie Joseph Tang.Otherworldly assemblages of foam, silicone, and other materials fill the booth of Paris's Galerie Joseph Tang; many pieces beckon visitors with their saturated shades of red and purple. The works are by the sculptor Daiga Grantina, who continues to draw upon her longstanding interest in light—how it either passes through the startling cuts and scrims in her work, or bounces off the thickly applied coats of resin that make them glow. The artist, who is currently featured in the Latvian pavilion at the Venice Biennale, is also in the midst of preparing for a solo show early next year at the New Museum in New York. Her works at FIAC, which range from freestanding sculptures to wall-mounted works, are priced between €9,000 ($9,900) and €15,000 ($16,500).

Gianni Manhattan
Lafayette Sector, Booth G04
With works by Barbara Kapusta and Zsófia Keresztes
Installation view of works by Barbara Kapusta and Zsófia Keresztes, in Gianni Manhattan's booth at FIAC 2019, Paris. Photo by Romain Darnaud. Courtesy of the artists and Gianni Manhattan. The Austrian gallery Gianni Manhattan has organized a two-artist booth around the theme of imaginary bodies. The most immediately striking works are Hungarian artist Zsófia Keresztes's delirious sculptures of highly evolved—or possibly mutated—human forms finished with pastel-hued mosaics. Though they appear playful, each sculpture also features metal bars or spikes, evoking the potentially dark turns that imaginary bodies can take. Displayed on a monitor set amid Keresztes's sculptures is a digital animation work by the Vienna-based artist Barbara Kapusta. In the piece, translucent human forms flap, flop, and collapse—ominous counterpoints to Keresztes's jubilant figures.

Grand Palais, Booth C03
With works by Damien Deroubaix, Mark Dion, Marcel Van Eeden, and Joana Hadjithomas & Khalil Joreige
Mega-fairs on the scale of FIAC can sometimes feel like a giant Wunderkammer, but Paris's In Situ – Fabienne Leclerc has encapsulated and exaggerated this feeling in its booth. The featured artists all have pseudoscientific or taxonomic sensibilities. The Lebanese duo of Joana Hadjithomas & Khalil Joreige, for instance, created a photographic timeline of trash in Tripoli stretching back 25 years. Mark Dion's large-scale diorama of urban fauna (including pigeons, rats, and a cat on the prowl) facing off in an alleyway was a crowd-pleaser at Wednesday's preview. Such enthusiasm may have stemmed from the familiarity of the scene—the work, from 2017, is titled Paris Streetscape.

Grand Palais, Booth C15
With works by Jennifer Guidi
Installation view of Jennifer Guidi, "11:11," in David Kordansky's booth at FIAC 2019, Paris. Photo by Mark Blower. Courtesy of David Kordansky Gallery.David Kordansky's startling, circular booth—its walls and floors were blackened to create a temple-like space amid the chaos of the fair—is an appropriately transporting environment in which to look at Jennifer Guidi's suite of new works on paper. All 22 pieces, priced at $30,000 each, were sold by the end of the VIP preview. Drawing on ancient iconography, celestial phenomena, and the transcendentalist modernism of Agnes Pelton, the works are colorful and luminous little wonders. Their enigmatic symbolism refers to the passage of time and mythology. These new works mark a return of sorts to Guidi's earlier figurative work, but they also conjure a kind of mystical timelessness that evokes Hilma af Klint.

Grand Palais, Booth A16
With works by Rachel Rose and Cy Gavin
Installation view of Gavin Brown's Enterprise's booth at FIAC 2019, Paris. Photo by Marc Domage. Courtesy of Gavin Brown's Enterprise, New York/Rome. In just about any other art fair booth, Cy Gavin's large figurative paintings—some of them featuring startling figures rendered in bold hues—would be the main attractions. But in Gavin Brown's Enterprise's two-artist booth, they play a supporting role to a group of elegant and slightly science-fiction sculptures by Rachel Rose. Sitting atop pedestals, each one depicts a human egg the moment after it's been fertilized, rendered in glass. Some of the works are transparent, others milky, with geodes and other stones embedded within the glass. Though very different from the fantastical videos for which Rose is best known, these sculptures have her characteristic high-gloss production quality and flair for seductive surfaces.

Grand Palais, Booth F11
With works by Emeka Ogboh
Installation view of Galerie Imané Farés' booth at FIAC 2019, Paris. © Emeka Ogboh and Galerie Imane Fares, Paris.Most visitors to FIAC will get a preview of Galerie Imane Farès's booth on their way into the fair—though they may not realize it. Outside the Grand Palais, as part of FIAC Projects, the Nigerian-born artist Emeka Ogboh has erected a 46-foot-long, billboard-sized artwork that is also a winking advertisement for Sufferhead, a beer he developed as part of documenta 14. His solo booth features kegs and bottles of the beer's latest iteration—developed with Parisian brewers—which incorporates spices from the home countries of African migrants now living in Europe. Lucky fairgoers who attended Ogboh's DJ set Tuesday night as part of the fair's performance program got to have a taste (or several) of the newest Sufferhead brew.

Grand Palais, Booth B41
With works by Alex Da Corte
Installation view of Alex Da Corte, "THE SUPƎRMAN," 2018, in Sadie Coles HQ's booth at FIAC 2019. Photo by Andrea Rossetti 2019. © Alex Da Corte. Courtesy of Sadie Coles HQ, London. The most elaborate and all-encompassing installation at FIAC this year is by an artist known for precisely this sort of ambitious intervention: Alex Da Corte. The American artist's solo project in the Sadie Coles HQ booth features a pair of video pieces screened on the sides of four giant, colorful cubes that take up most of the booth and leave narrow passageways for fairgoers to pass through. The works—TRUƎ LIFƎ (2013) and BAD LAND (2017)—feature Da Corte as his favorite alter ego, the rapper Eminem, performing seemingly mundane but increasingly bizarre activities. In the earlier work, we see him eating a bowl of cereal, while in the later piece, he struggles to untangle video game controllers, smokes copiously from homemade bongs, and rubs bright yellow mustard into his bleach-blonde hair. While fairs are notoriously challenging venues for video art, Da Corte's installation drew in plenty of viewers during Wednesday's preview, many of whom seemed happy to linger in the surreal space.

Grand Palais, Booth B32
With works by Mohamed Bourouissa, Daniel Buren, Tadashi Kawamata, Anish Kapoor, Alicja Kwade, Bertrand Lavier, Martial Raysse, Christodoulos Panayiotou, Ugo Rondinone, Tatiana Trouvé, and Lee Ufan
Installation view of Kamel Mennour's booth at FIAC 2019, Paris. © The artists (from left to right): ADAGP François Morellet, Christodoulos Panayiotou, ADAGP Camille Henrot, ADAGP Martial Raysse, Ugo Rondinone Photo. Courtesy of the artists, Studio Morellet, and Kamel Mennour, Paris/London. Paris gallerist Kamel Mennour is having a major moment, with a profile in the Financial Times last week and a sadly timely exhibition by Ugo Rondinone spread across his three spaces in the city—the artist dedicated the show to his longtime partner, the poet-artist John Giorno, who died on Friday. Appropriately, one of Rondinone's columns of large rocks painted in Day-Glo hues anchors the booth. It also features a bravura presentation of works by some of the gallery's biggest artists, including a pyramid-like Alicja Kwade sculpture; a characteristically striped work by Daniel Buren that's actually made of marble; and red, convex orbs by Anish Kapoor.

Grand Palais, Booth B33
With works by Alexander Calder, Jean Cocteau, Alberto Giacometti, Yves Klein, Fernand Léger, Man Ray, Henri Matisse, Francis Picabia, Pablo Picasso, and Edward Quinn, among others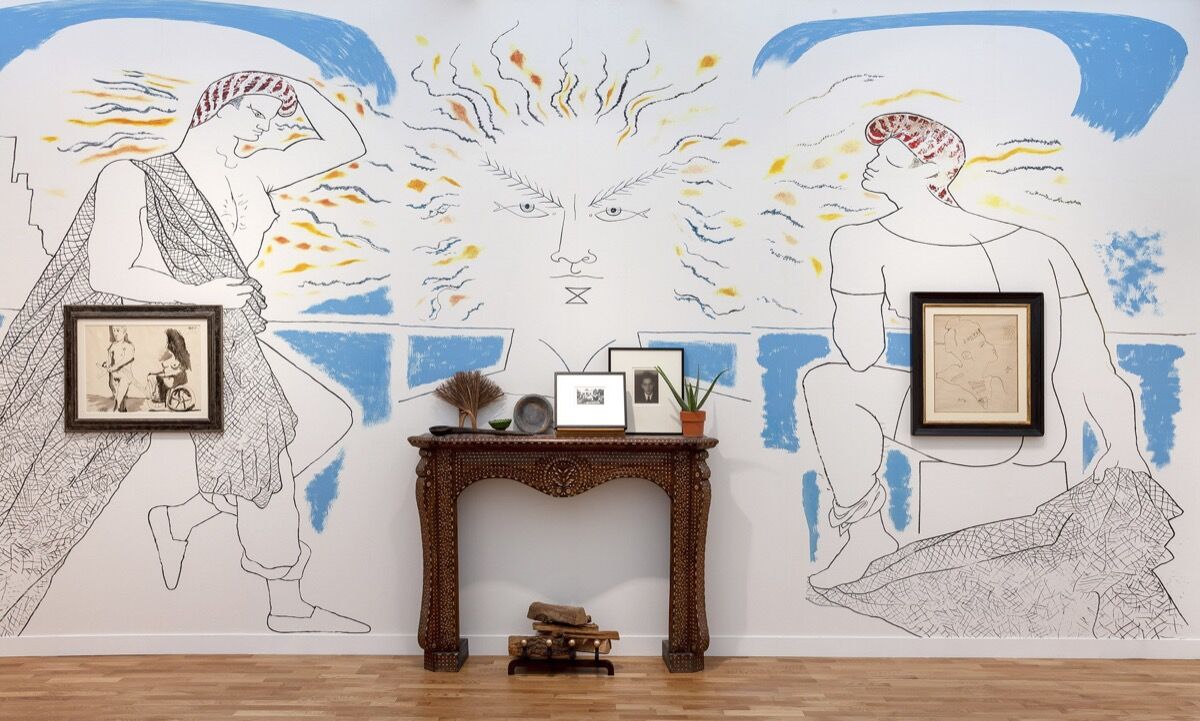 Installation view of "Artists on the French Riviera," in Gagosian's booth at FIAC 2019, Paris. Photo by Zarko Vijatovic. Artwork 2019 Estate of Pablo Picasso/Artists Rights Society (ARS), New York. Courtesy of Gagosian.Gagosian is flexing its muscles and preaching to the choir with a Francophilic FIAC booth devoted to the many modern artists who have spent time on the Côte d'Azur, including Henri Matisse, Pablo Picasso, Alberto Giacometti, Alexander Calder, and Yves Klein. The booth's distinctive design is based on the interior of the Villa Santo Sospir near Nice, complete with replicas of the murals that Jean Cocteau created there during his stays in the 1950s and '60s. The facsimile of a domestic space, complete with a mantlepiece and rattan seats, makes for an uncharacteristically homey setting in which to take in all the blue-chip works.