Tauba Auerbach, Heat Current, 2020. © Tauba Auerbach. Photo by Lance Brewer. Courtesy of STANDARD (OSLO).
Auerbach's first-ever retrospective, alluringly titled "S v Z," was due to open on April 25th at
SFMOMA
, though it has been postponed until 2021 due to COVID-19 (the exact dates are still to be determined). Spanning the last 16 years of the artist's career, the highly anticipated exhibition will be an extraordinary opportunity to experience the full breadth of Auerbach's heady, mind-bending practice. Encompassing painting, sculpture, photography, bookmaking, performance, and more, Auerbach's conceptual work tests the hidden logic of the world around us—from abstract principles in math and science to language, design, and craft. Auerbach questions the boundaries of these systems, discovers their limits, and bends them to expose their poetic potentials.
The survey's title, "S v Z," is a symbol for the artist's long-standing interest in symmetry; the letters S and Z act as distorted reflections of each other, both visually and sonically. The letter V, meanwhile, represents the mathematical symbol for "and/or" instead of "versus."
Installation view of "Tauba Auerbach: Projective" at Paula Cooper Gallery, New York, 2016. © Tauba Auerbach. Photo by Steven Probert. Courtesy of Paula Cooper Gallery, New York.
While the physical exhibition is delayed, the
catalog
of "S v Z" has already been published. "It's rather strange that the book precedes the show by a whole year," noted Auerbach. "But what can you do?" Designed by Auerbach in collaboration with David Reinfurt, the volume is a work of art in itself and serves as a fantastic teaser for the eventual in-person experience. "Time feels a bit formless right now," she said.
Auerbach is no stranger to fluid states of time. A sizable chunk of her practice has been devoted to breaking down its constructs. For example, in The Familiar Stranger (2014), she collaborated with fellow artist Erik Wysocan and publishing imprint Halmos to hack an edition of Casio digital wristwatches. Auerbach has also developed a number of artfully designed 24-hour analog clocks that are ingeniously engineered to show us the full passing of a day. Her obsession with time can also be seen in her studio, where she keeps a personal collection of strange and unusual timekeepers. These are displayed alongside mathematical models, upside-down maps, invented tools, and various 3D prints—more the kind of personal effects you'd expect of, say, a physicist rather than an artist.
Tauba Auerbach,Untitled (Fold), 2011. © Tauba Auerbach. Photo by Vegard Kleven. Courtesy of STANDARD (OSLO).
Tauba Auerbach, Shatter I, 2008. © Tauba Auerbach. Courtesy of Paula Cooper Gallery, New York.
After graduating from Stanford with a degree in visual art in 2003, it wasn't long before Auerbach began attracting critical attention. After being added to Jeffrey Deitch's prestigious roster in 2006, her big break came in 2009, when four of her pieces were included in the trailblazing New Museum survey "The Generational: Younger Than Jesus" alongside artists like Cory Arcangel, Cao Fei, Ryan Trecartin, and
In 2009, she also started to make her "Fold" paintings (2009–13), uncanny experiments with depth perception and light. Auerbach made these works through a deceptively simple process: She folded a length of canvas, forming deep creases, and sprayed the surface with paint before stretching it back out. The result is a series of hypnotic, reverse trompe l'oeils; the sprayed-on paint acts as its own source of light. In 2015, several of Auerbach's "Fold" paintings sold at Phillips for over $1.4 million, with one 2011 canvas selling for $2.2 million.
That same year, Auerbach debuted one of her most memorable works—the deftly titled Auerglass (2009). Created in collaboration with musician Cameron Mesirow (a.k.a. Glasser), Auerglass is a pump organ that can only be played with two people (each player provides the wind for the other player's notes). This entirely invented experimental instrument debuted at Deitch Projects, where she and Mesirow performed throughout the exhibition's duration. They also had matching custom shoes with platform heels that fit together like a jigsaw puzzle.
Tauba Auerbach and Cameron Mesirow, Auerglass Organ, 2009. Built by Parsons Pipe Organ Builders. Photo by Max Farago. Courtesy of Paula Cooper Gallery, New York.
Auerglass
's origin story is remarkably relatable. In a 2009 interview with
The Fader
, Auerbach described how the piece was born out of friendship and a night of boredom. "Cameron and I lived together for a long time in San Francisco," she explained. "We were kind of restless one night and decided to make an instrument to give ourselves a project. We let ourselves into this sign shop that I worked at at the time and made a banjo out of a cookie tin and some scraps of wood." "It was pretty bad," Mesirow added. The pair agreed that they ought to make a more earnest attempt. "We were like, 'our next project should be a little more ambitious,'" said Auerbach.
The artist's practice, however, is much more than a little ambitious. In 2018, for her first major public art project, she was co-commissioned by New York City's Public Art Fund and London's 14-18 NOW to design a contemporary dazzle ship commemorating 100 years since the end of World War I. Invented by British painter
Norman Wilkinson
as a way to confuse enemy submarines, dazzle ships were ingeniously patterned with optical illusions, making it nearly impossible to detect their exact distance, direction, or speed. Heavily inspired by
Cubism
,
Futurism
, and Vorticism, these designs were described as both "floating art museums" and "a futurist's bad dream" by journalists at the time.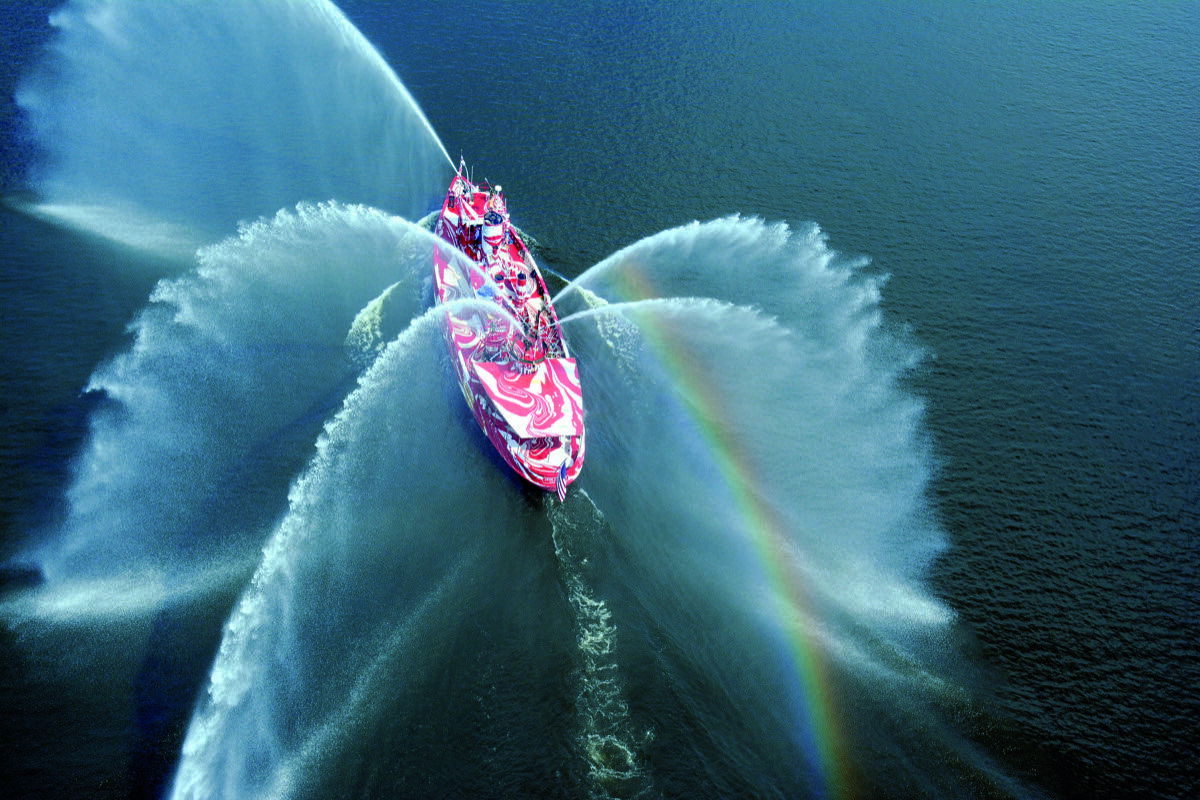 Tauba Auerbach, Flow Separation, 2018, on Fireboat John J. Harvey in New York Harbor, 2018–19. Photo by Nicholas Knight. Courtesy of Public Art Fund, New York; and Paula Cooper Gallery, New York.
Titled Flow Separation, the design for Auerbach's dazzle ship was based on the water itself, translating laws of fluid dynamics into stunning patterns. "Flow separation" is the kind of turbulence that happens in a ship's wake, which will often create eddies. Auerbach was able to recreate this concept through paper marbling, a process that involves floating blobs of ink on a tray of water and combing the surface to create patterns—essentially using flow separation as a drawing tool. Painted over the entirety of New York's historic John J. Harvey fireboat, Auerbach's bold red-and-white design was a sight to behold as it sailed down the Hudson and East River.
A through line uniting all of Auerbach's work is a penchant for drawing out the patterns in the universe—such as in waveforms, in print, in music, or in time. In identifying these elusive rhythms, she has created a body of work that pokes around the edges of perception and, more profoundly, consciousness.
In describing what the SFMOMA exhibition has meant to her, Auerbach said, "This show has meant facing myself—noticing patterns, both good and bad, identifying and wrestling with the questions I seem to keep returning to, and realizing that I still don't have any satisfactory answers." While 2021 may seem like a long way away, when it comes to discovering the limits of consciousness, time is just another malleable construct.
Shannon Lee is Artsy's Associate Editor.
Corrections: A previous version of this article stated that Auerbach's parents were theater designers; they both worked in theater production but were not designers. Additionally, Auerbach and Mesirow performed "Auerglass" almost every day at Deitch Projects, not twice a week. The text has been edited to clarify these points, as well as additional statements regarding Auerbach's process in creating her "Fold" paintings and the definition of "flow separation."