Three UCLA Arts faculty members – Catherine Opie, Willem Henri Lucas and Dana Cuff – reflect on the theme of home for our podcast, Works In Progress.
We've become a world under lockdown. As the novel coronavirus pandemic continues to spread worldwide, more than 3.9 billion people, or half of the world's population, are now being asked to stay in their homes.
Of course, some people can't stay home. Health care workers, grocery store clerks, delivery drivers, construction crews and others are deemed essential. Every trip away from home is a risk.
For those of us who are lucky enough to still have jobs and can do our work from home, the world has shrunk to the confines of the walls around us. Our homes used to be a refuge from the world. But now these sacred, personal spaces are where we work, study, raise kids and live out our lives. The home has become the office and the classroom, the gym and the cafe. Even as we bake, pick up new hobbies and try to get closer to our families, a lot of us are learning new ways of being home.
Home and domesticity have been themes of photographer Catherine Opie's work for a long time. Graphic designer Willem Henri Lucas fills his home with objects collected from foreign countries. And architecture theorist Dana Cuff is thinking about how disease shaped modern architecture, and how our home and office spaces might change if telecommuting becomes the norm.
Catherine Opie has been exploring notions of home for nearly three decades. She traces her interest in home as a subject back to her childhood.
"When I got my camera at nine, most of my photographs were of my family and around my house in Sandusky, Ohio, and my friends," she said. "And I think that photography in itself lends itself to home."
In her image "Self-Portrait/Cutting," made in 1993 when she was thirty-two years old, she sits with her back to the camera. Carved into her skin are two stick-figure women holding hands, next to a house.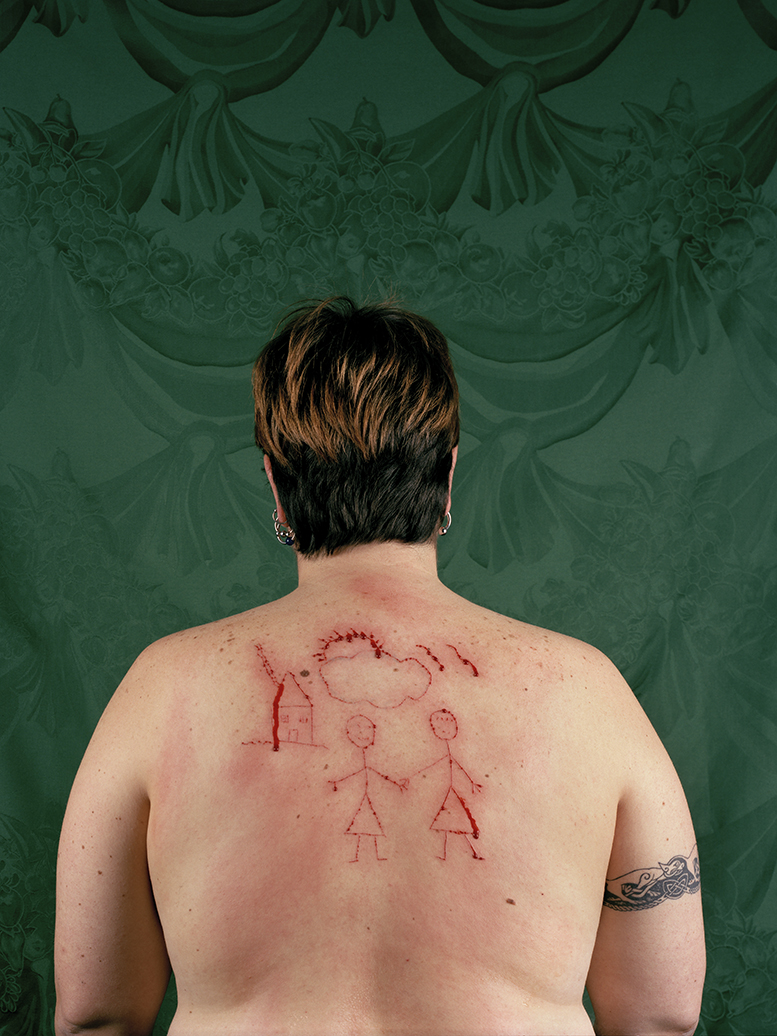 Catherine Opie, Self-Portrait / Cutting, 1993
Opie showed another aspect of home in the 1999 series "Domestic," in which she travelled around the country in an RV, photographing lesbians and their families in their homes.
In the early 2000s, she went on another road trip to document American anxieties for her series "In And Around Home," which featured scenes of family and community.
"I realized that since 9/11 we had all of a sudden became a fearful society again, and we were sheltering in place more. Home theaters were being built at that given time," she said. "We as Americans felt that terrorism was going to take over our lives, and it made us much more insular as a society."
Opie photographed house exteriors in Beverly Hills and Bel Air for her series "Houses and Landscapes," and then took an unusual approach to celebrity portraiture with "700 Nimes Road," a series shot inside Elizabeth Taylor's Bel Air home of the actress's possessions and interior decor.
In the 2016 series "The Modernist," her friend and longtime subject Pig Pen appears to be running around LA and setting fire to famous modernist homes designed by John Lautner. The image at the top of the page shows Pig Pen at the Sheats-Goldstein House.
As we are called upon to stay in our homes, Opie says we should also think of those who don't have a home to stay in.
"What is really hard for me right now is imagining people who don't have a safe place to be, who are without homes. And as we know in Los Angeles, this is a profound reality for 60,000 people," she said. "And so home has a really profound way of also showing us the haves and have-nots at this point in time.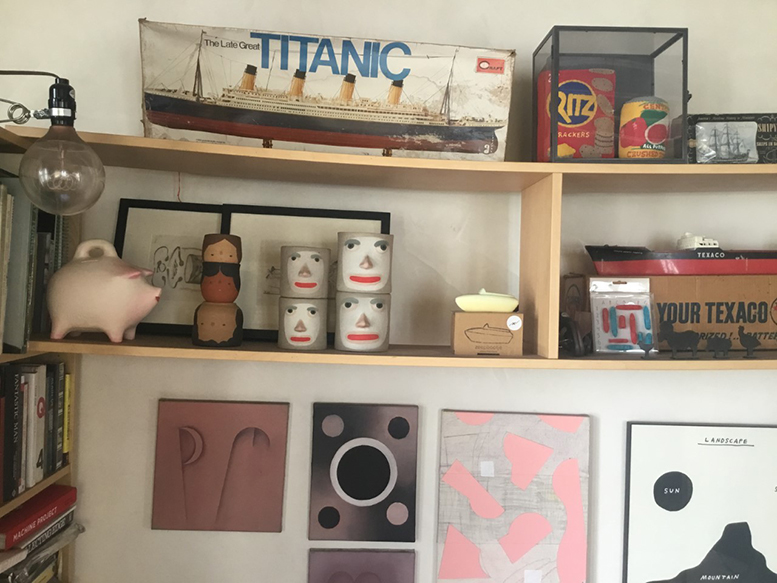 A detail from Willem Henri Lucas's downtown LA loft.
Willem Henri Lucas is a professor in the Design Media Arts department at UCLA. These days he's in Zoom meetings and classes a lot, catching glimpses into other people's homes and private lives.
As a consummate collector, he's fascinated with the objects people collect and display in their homes. His downtown LA loft is filled with art, books, masks and other trinkets that he bought at flea markets on his foreign trips.
"What I'm interested in still is what home actually means. In the times that I've moved, I realized it was not just the space that you're in, like the actual building or the actual surrounding, that it's memories and that it's things," Lucas said.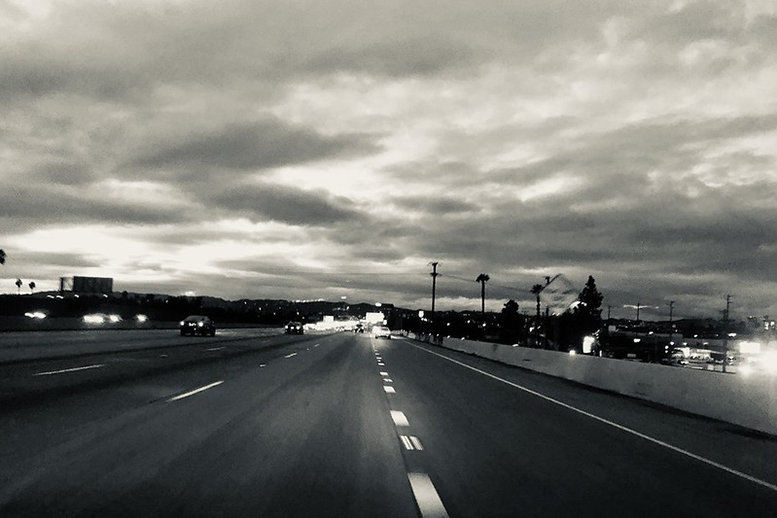 Image of the 405 freeway during the coronavirus pandemic by James Tapparo II via Flickr/CC
The city of Los Angeles feels very different than usual. Gone are the large crowds and traffic jams. The trains and buses are mostly empty, as the world has shrunk to the size of our homes and neighborhoods.
Will everything go back to normal once the pandemic is over? Or will we forever move through the city differently? And how might the home change as it replaces the office for many of us, at least for now?
For more on the physical changes that might result from COVID-19, we reached out to Dana Cuff, a professor in the Architecture and Urban Design department at UCLA and the founding director of CityLab, a research center at UCLA that explores urban possibilities through experimental projects. She also co-authored the new book "Urban Humanities: New Practices for Reimagining the City."