Some of our favorite design talents share their plans and predictions for 2020.
by 1stdibs Editors | December 29, 2019
Bryan O'Sullivan
Bryan O'Sullivan demonstrated his love of soft edges in the petit salon of a 1924 Paris residence, placing a pair of Pierre Yovanovitch armchairs across from a Rose Uniacke sofa. Photo by James McDonald
"I think 2019 was a great year for experimentation," Bryan O'Sullivan says, referring both to his own studio's work and to that of his colleagues. "There are so many great people out there delivering amazing, inspiring work, and I hope to see even more of that in the year ahead." What does he wish to see less of? "I would be really appreciative if we could leave lino and tiles that look like wood in 2019." The projects O'Sullivan has on the docket for 2020 include suites at Claridge's hotel, a "truly unique" Hamptons residence and a "very exciting cocktail bar in an iconic Mayfair hotel," slated to open in March. His predictions: "Edges are becoming softer and softer, which is something that I really like. I feel like 2020 is going to be even more voluptuous, and I'm here for it."
Bryan O'Sullivan's 1stdibs Favorites
Left to right: Rolex Day-Date 5 Serial automatic men's watch 18038; Elton John at Dodger Stadium, 1975, by Terry O'Neill; Paavo Tynell chandelier
---
Ken Fulk
Ken Fulk gave the Red Salon at Saint Joseph's Arts Society, in San Francisco, a characteristically vibrant makeover, with plush textures and exciting textiles. Photo by Douglas Friedman
Virginia-born Ken Fulk is known for his cinematic style, so it's only natural that he draws design inspiration from eras when Hollywood reigned supreme. "We're reinterpreting the unabashed glamour of the nineteen eighties in a few projects. There's an optimism to it that I think is very attractive right now."
Fulk has taken on unique projects around the world, including a private jet, and now he's excited to venture into uncharted territory: a custom-built classic sailing yacht. "The finishes and interiors are inspired by royal Hawaiian traditions," he explains. "It's an utterly bespoke endeavor and a first for us." Also on his docket this year: the Commodore Perry Estate, in Austin, Texas. Sitting on more than 10 acres of land, the 1920s mansion is being re-envisioned as a private club and Auberge Resorts hotel, complete with 53 newly built guest rooms, as well as a restaurant, spa and pool.
Ken Fulk's 1stdibs Favorites
Left to right: Alberto Giacometti for Jean Michel Frank wrought iron garden chair; pair of Jean Royère-style stools; Renzo Zavanella-attributed lounge chair and ottoman
---
Sasha Adler
Not one to follow trends, Sasha Adler designed this elegant master bathroom in Los Angeles with simplicity in mind. Photo by Roger Davies
"I am literally counting down the seconds. I am giddy just thinking about seeing everything come together, as it is unlike anything I have ever done previously," says Chicago-based Sasha Adler, describing a vacation home in Cabo San Lucas, Mexico, that her firm is creating in early 2020 for clients who challenged her to use a lot of color. "We found unbelievable local artisans throughout Mexico and had the opportunity to design a lot of custom pieces. Still, true to our firm's aesthetic, the home has a phenomenal collection of European antiques, including everything from an eighteenth-century carved Italian console with the original marble top (which has been retrofitted as a powder room vanity), to a Louis XVI verdigris lantern and a pair of Catalan wood doors, to a pair of Audoux Minet rope sconces — all found on 1stdibs!"
Adler shies away from trends. "Unlike fashion, where you can afford to be a little more experimental, your interior selections are something that are more of an investment and really need to stand the test of time. I always look to things from the past. If I still appreciate their design and craftsmanship decades or even centuries later, then I know they won't be fleeting."
Sasha Adler's 1stdibs Favorites
Left to right: Chanel black wool and silk evening tail coat/dress; Louis XV–period console table with blue turquin marble top; Maison Arlus floor lamps
---
Jeremiah Brent
Nate Berkus and Jeremiah Brent kept their L.A. living room light and airy, with pale wood floors, a 1970s Soriana sofa by Tobia and Afra Scarpa and an array of antique finds. Photo by Christopher Dibble
"This year has been huge for me, professionally and personally," says Jeremiah Brent, noting that he's especially proud of designing his firm's new offices in Los Angeles and New York. "They're our teams' creative sanctuary — we went from one person to a team of seven across coasts." As for furniture, he is partial to designs that have gone the distance. "I love the timelessness of the classics — Jacques Adnet, Jean Prouvé, Charlotte Perriand, Pierre Jeanneret, Mathieu Matégot, Jean Royère, and I'm currently obsessed with Charles Dudouyt." That said, Brent doesn't believe in adhering to any one aesthetic. "I want to see people follow more of their hearts than design trends this next year," he says. "I want the rule for 2020 to be 'breaking the rules' — I think that's where design gets really interesting. This was a big year for pushing my own limits, and it's made me grow creatively in ways I couldn't possibly have imagined."
Jeremiah Brent's 1stdibs Favorites
Left to right: Mario Bellini Camaleonda sofa; Ico Parisi for Arteluce Mod. No. 256 wall lights; Charles Dudouyt dining chairs
---
Fern Santini
Fern Santini is not shy when it comes to mixing patterns, as witness this Boulder, Colorado, sunroom, where she paired a leopard-print sofa with Chinoiserie wallpaper. Photo by Nick Johnson
"We are hearing from clients and prospective clients that they are looking forward to incorporating more traditional elements into their lives. People are interested again in wonderful details, lush fabrics, trims, saturated colors, but combined with more contemporary elements as well," says Fern Santini, adding, "There is an ongoing interest in mixing periods together, using unexpected fabrics on more traditional pieces and having more objects, photos and artwork visible."
Currently renovating a home for a high-profile Houston client — "It's an opportunity to be wildly creative" — Santini is also working on a new initiative in her hometown of Austin, Texas. Fern Santini Collaborative brings together designers and craftsmen to create completely furnished, ready-to-move-in homes, whose sales proceeds go to support local charities; its first project is set to debut in October 2020. The business model incorporates a win-win strategy, Santini explains, capitalizing "on collaboration, promoting our project partners and paying it forward to the community through a specific nonprofit selected for each project."
Fern Santini's 1stdibs Favorites
Left to right: Paolo Buffa walnut and sheepskin armchair; Audoux Minet rattan lounge chair; Indian Agra rug
---
Clive Lonstein
This bedroom has a moody, slightly Victorian feel, thanks to the dark palette and distressed paneling. Photo courtesy of Clive Lonstein
"I think individuality is the design trend of the moment," says New York–based Clive Lonstein. "I think in the age of the internet, where everyone has access to inspiration from all over the world and all periods of design history, you see a move away from trends and a move toward individuality and creating one's own aesthetic sense. In my opinion, that's great, because design is strongest when it is good design and not trend based." His own individual aesthetic draws him to the work of Jean-Michel Frank. "His design, with its simplicity and his impeccable use of proportion and exquisite materials, remains a classic favorite of mine."
Clive Lonstein's 1stdibs Favorites
Left to right: Pair of bronzed-iron end tables; obsidian lamp with parchment shade; Viggo Boesen three-seat sofa and two easy chairs
---
Amanda Jesse and Whitney Parris-Lamb
Firm believers in cosseting homes and functional style, the designers behind Brooklyn-based Jesse Parris-Lamb gave this Westport, Connecticut, living room a decor as cozy as it is elegant, outfitting it with vintage furniture by the likes of Vladimir Kagan and having artist Christopher Holt paint branch murals on the walls. Photo by Nicole Franzen
Amanda Jesse and Whitney Parris-Lamb, the Pratt alums behind Brooklyn firm Jesse Parris-Lamb, are looking forward to a bright 2020. Their vision, in a word? "Color!" says Parris-Lamb. "In general, we see a move toward more vibrant, saturated colors happening right now in interior design. We absolutely love working with color and are especially drawn to the current trend toward autumnal reds, golds and browns."
And who is their ideal client for their hue-filled designs? "As a former professional dancer, Amanda has always dreamed of working with a prima ballerina — American Ballet Theatre dancer Misty Copeland tops our list," Parris-Lamb says. "The function of a home for someone who works her body daily in such a physically demanding way is interesting to us. Personal space becomes a place to literally shelter, comfort and heal from the grueling work of the day."
Amanda Jesse and Whitney Parris-Lamb's 1stdibs Favorites

Left to right: Round cherrywood dining table; Pierre Chapo elmwood and ceramic coffee table; Pierre Chapo patinated black leather and elm armchair
---
Kristan Cunningham and Scott Jarrell
The duo behind Hammer and Spear love to infuse history into their one-of-a-kind interiors, and this children's bathroom in Topanga, California, is no exception. "The steel tub on casters has found a new life with these kiddos," says firm cofounder Kristan Cunningham. "It was originally used to wheel liquid chocolate through the Hershey's factory." Photo by Jessica Sample
Kristan Cunningham and Scott Jarrell, the married couple behind the Los Angeles firm Hammer and Spear, are heading into the New Year with an exciting new project in the works: "We're getting started on the reimagining of a bastide in Aix-en-Provence — goat house and all! — with dream clients," says Cunningham, noting that their favored material for the project is plaster in any form — furniture, lighting and objects. "We're really into singular material spaces right now and yearning to see more connective tissue between the architectural envelope and the contents within," Cunningham says. But she could do without satin brass. "Let's keep using brass — classic, warm and beautiful — but it's at its best when live and imperfect."
Kristan Cunningham and Scott Jarrell's 1stdibs Favorites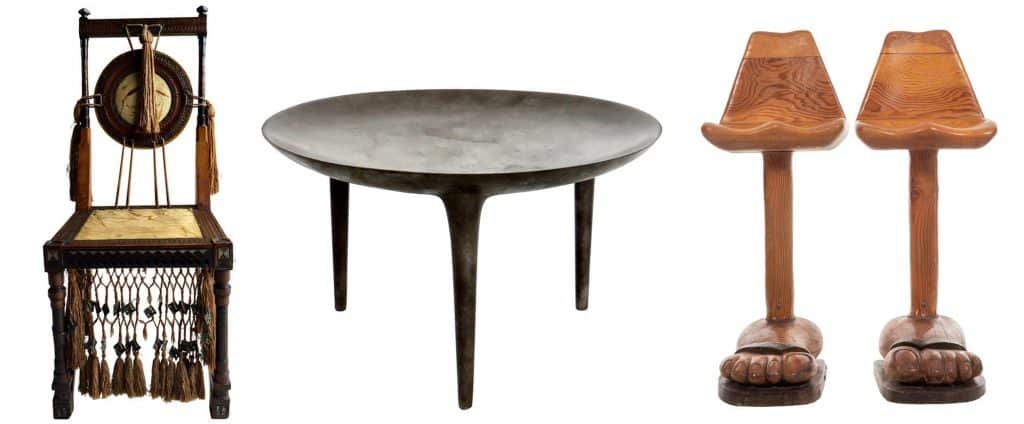 Left to right: Carlo Bugatti walnut and copper side chair; Rick Owens cast-bronze brazier side table; American Craft footstools
---
Melissa Morgan
The first pieces that Melissa Morgan, of M Interiors, found for this San Antonio, Texas, master bedroom were the eglomise lamps. A fan of refined Southern style, Morgan got the Carl Malmsten daybed from 1925 second. Photo by Stephen Karlisch
When it comes to the future of design, Melissa Morgan, of the San Antonio, Texas–based firm M Interiors, is considering aesthetics and geography. "I may be late to this prediction, but for sure, my favorite city right now is Mexico City," she says. "It is so vibrant, full of history, amazing people and cuisine. That said, it's also a center for very innovative and chic furniture design. There are so many furniture designers there who are really doing great work. In the coming year, we are looking forward to incorporating even more of their pieces in our projects. We really enjoy visiting the city and always leave amazed and looking forward to our next return."
Melissa Morgan's 1stdibs Favorites
Left to right: From Carey's Hill, ca. 1945, by Daniel Garber; Eileen Gray for Ecart International Transat chair; Hermès Kelly alligator-pattern bracelet
---
Suzanne Kasler
Suzanne Kasler balances the grandeur of her dramatic interiors with pale, neutral colors, as in this Atlanta, Georgia, living room, where she set a serene mood with a trio of Katharina Chapuis oil paintings. Photo by Douglas Friedman
"We are so excited to be designing the living room at the Kips Bay Palm Beach Show House!" exclaims Suzanne Kasler, who explains that her space in the house, which opens to the public on February 1, will feature "a very chic, custom white de Gournay" wallpaper, plus linens, velvets and rattan. "We will also be installing a beautiful home in Bermuda, a contemporary home in New Orleans and a stunning property in Atlanta inspired by Lutyens English country style."
Kasler is more than up to the frenetic few months ahead of her, but she still sees value in slowing things down a bit. I have noticed everyone seems to expect and want everything very fast — it's important to remember that design is a process," she says. "It's unfortunate when selections are compromised based on immediacy, rather than waiting for the pieces that are worth waiting for. I hope that trend changes in 2020 as people begin to appreciate and understand that those special pieces that really elevate an interior often take time."
Suzanne Kasler's 1stdibs Favorites
Left to right: French neoclassical gilt-iron bench; Louis Vuitton trunk; Antoine Philippon and Jacqueline Lecoq for Behr sideboard
---
Mona Hajj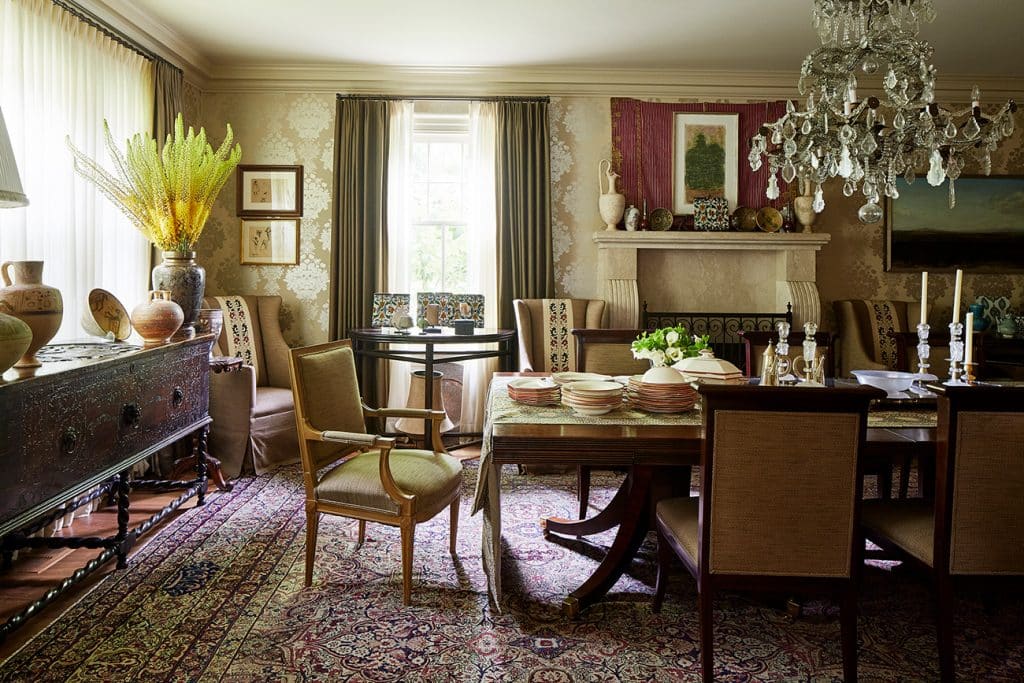 Passionate about designing homes for comfort, Baltimore-based designerMona Hajj created a warm and layered feel in this Chevy Chase, Maryland, dining room without disrupting the early-20th-century house's historical bones. Photo by William Abranowicz
Mona Hajj is based in Baltimore, but her upbringing in Beirut informs her signature collected, layered style. In 2020, she hopes to see "livable interiors — less about brand names and more about beauty, character and comfort." Hajj has achieved just that in a vacation home she is currently finishing up in Bethany Beach, Delaware, that she describes as having "a classical yet modern style that allows for an interesting and livable interior."
Mona Hajj's 1stdibs Favorites
Left to right: Ole Wanscher rosewood colonial chair; Aro marble coffee table by Atra; Vladimir Kagan alpaca velvet sofa
---
Martin Brudnizki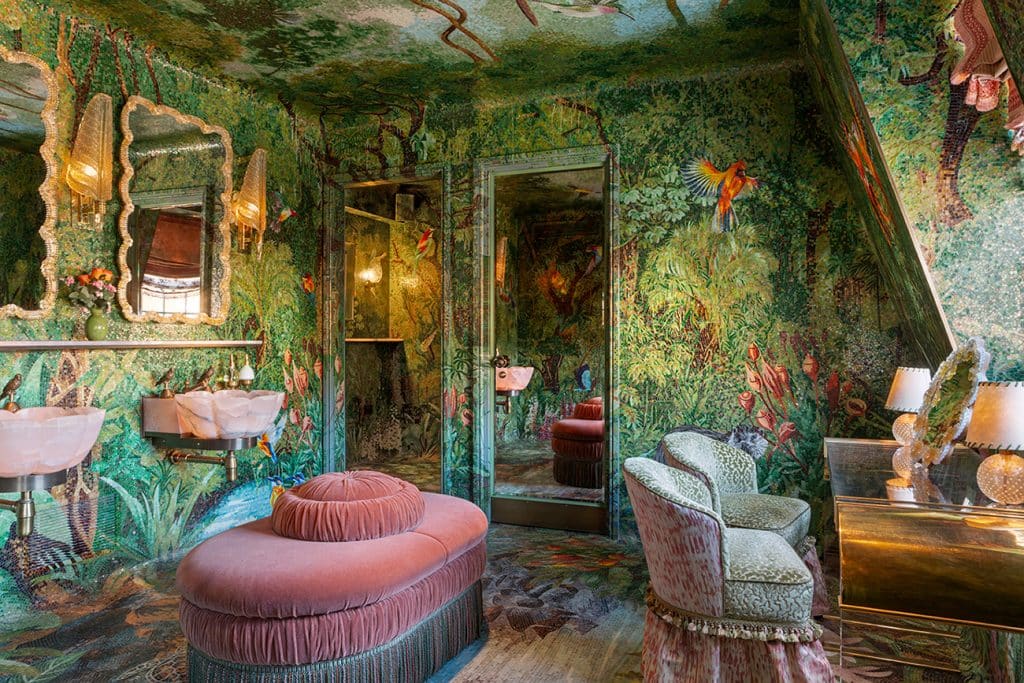 For Matteo's, the restaurant at Annabel's, Martin Brudzinski crafted a whimsical decor that, in classic Brudzinski style, redefines maximalism and splendor. Photo by James McDonald
"We have had classicism and modernism and all the possible variations, so I think we're at the stage now where we can pick and choose parts from each epoch to suit our way of living," says Martin Brudnizki, whose London-based firm will celebrate 20 years in business in 2020. In the year ahead, his studio will be completing a wide range of projects, including a restaurant on Bleecker Street in New York, the Mayfair Club at the Bellagio in Las Vegas, a hotel in Paris and a private home in the English countryside.
"I think people are moving toward creating something that is more authentic and unique, so the rise of the artisan's and artist's touch is becoming more visible," Brudnizki says. "This year, I've noticed a lot more examples of artists hand-finishing items of furniture with tactile sweeps of the brush or making their marks on ceramics with handwriting. I love this next level of authenticity and craftsmanship, which makes a piece really stand out, and I hope to see more of it in 2020."
Martin Brudnizki's 1stdibs Favorites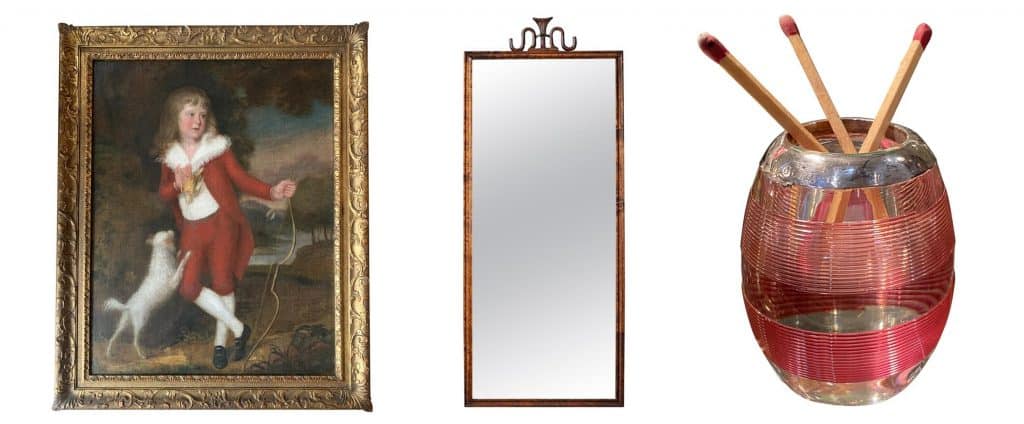 Left to right: Portrait of a boy in a red jacket with a bow and arrow, 1790, by circle of Sir John Hoppner; Axel Einar Hjorth mirror; pink match striker with sterling silver rim
---
Frank Roop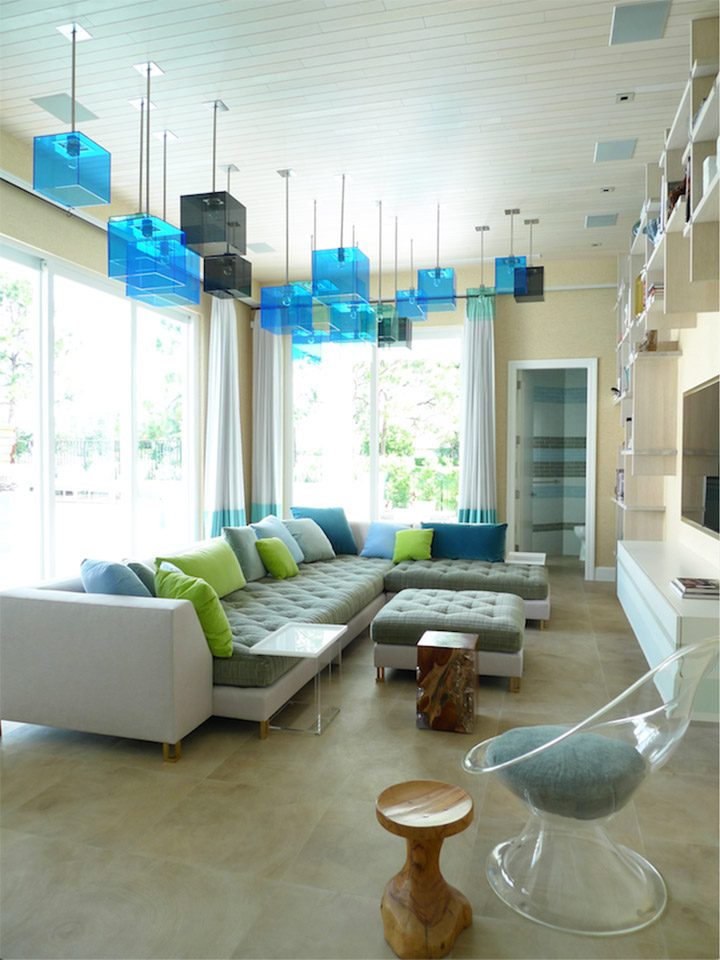 Frank Roop went for eclectic yet elevated in this Wellington, Florida, living room, deploying pieces like the vintage acrylic LaVerne chair and installing his own custom lighting. Photo courtesy of Frank Roop
"I recently completed this vacation house in Florida, which has a cabana vibe," says Boston-based designer Frank Roop, adding that its nondescript exterior belies the "wow" factor inside. "My favorite piece is the sectional that is designed to lie into — like a big bed. The vintage acrylic chair by LaVerne in the foreground is one I would love to own.
"I don't really like to get hung up on trends," he continues. "To me, a great interior is one that looks fresh ten years later." That same quality draws him to Sergio Rodrigues Vronka chairs — "great space-age lines meet primitive," he says. "I sit in this model every night and watch Netflix!"
Frank Roop's 1stdibs Favorites
Left to right: Guillerme and Chambron for Votre Maison Juliette armchair; Verner Panton wall-mounted mirror sculpture; graphic aluminum desk lamp
---
Summer Thornton
To breathe new life into an apartment in a 1929 Rosario Candela-designed Chicago building, Summer Thornton clad the breakfast nook in Schumacher x Miles Redd Madame de Pompadour wallpaper, outfitting it with a bold aqua banquet and a fun, quirky urn. Photo by Josh Thornton
"I want to see more fantasy and whimsy in my projects and others in the next year," says Summer Thornton, who favors a mix of '70s sex appeal and '40s refinement. "We are entering a new decade — let's have fun with it!" Color often plays a strong role in Thornton's work, and it will continue to do so in the new year. "I want to play a lot with oranges, saffrons, rusts and golds," she says. A color she can do without? "Less gray, please." In 2020, she's set to wrap up a large estate in Atlanta that she's been working on for several years. "It will be our most glamorous project to date!"
Summer Thornton's 1stdibs Favorites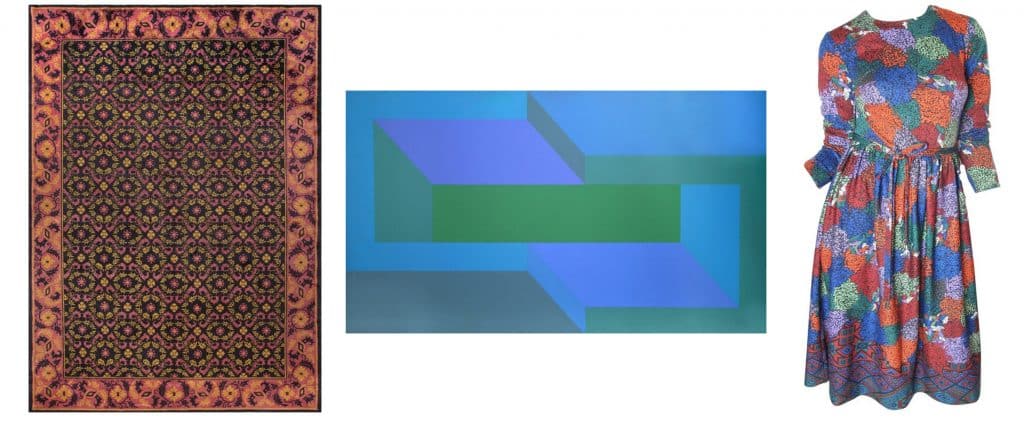 Left to right: Chinese handwoven wool rug; Sea Deep, 1970, by Arthur Boden; Lanvin dress
---
Julie Charbonneau and Janinna Caverly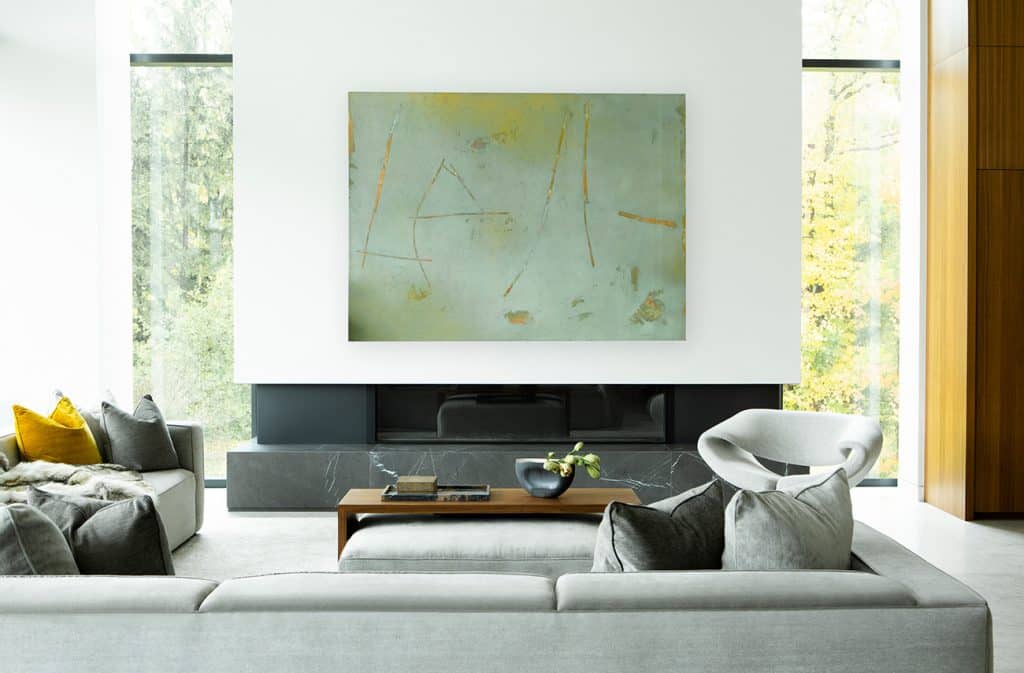 A newly completed project in Montreal, Canada, by Julie Charbonneau displays the designer's love for pared-down spaces featuring natural, muted hues. Photo by Monic Richard
Julie Charbonneau and Janinna Caverly, of Toronto-based Julie Charbonneau Design, have a big year ahead, literally. They're completing their largest private residence to date, at more than 30,000 square feet — it "channels a dynamic French modern aesthetic," Charbonneau says — and they're commencing construction of a Tudor-style custom home, situated on a 100-acre-plus property, for which they've designed everything from the architecture to the accessories.
"Green remains a color I want to use more, as well as burnt orange," Charbonneau says. "I feel it's very rich and chic. I also want to continue using more intricate stones with elaborate patterns and colors." What would she like to see less of? "I'm really hoping that we can move away from over-designing spaces and overcrowding them. The 'more is more' style was kind of interesting at first, but it quickly gets tired," she says. Instead, "we want sophistication. We want less 'in your face' and more elegance."
Julie Charbonneau and Janinna Caverly's 1stdibs Favorites
Left to right: Tronchi Murano glass chandelier; Untitled (V), 1990, by Robert Longo; Pomellato peridot and diamond cocktail ring
---
Kelly Behun
Kelly Behun combines a preference for soft palettes with an avant-garde style. In this Hamptons retreat, she paired a Campana Brothers sofa with other rounded pieces, such as a Konstantin Grcic armchair, a Gufram sculpture and AC Group artworks. Photo by Stephen Kent Johnson
Kelly Behun has no shortage of fabulous projects, but asked to choose her ideal client, she has a quick response: "Ruth Bader Ginsburg," Behun says, "because she is a national treasure, and the thought of getting to have a meeting with her, even if the conversation centered on lamps and rugs, would be a dream come true." As for her favorite furniture designer, she cites another revered woman: Andrée Putman. "I had the great pleasure of meeting and learning from this design icon while working on a refresh of the lobby of the former Morgans Hotel in New York," she says. "Her interior for Jack Lang's office when he was the French minister of culture is one of my favorite rooms and is a testament to the transformative power of interior design."
Kelly Behun's 1stdibs Favorites
Left to right: Jonathan Trayte vanity table; Jean Royère Gondola daybed; U-form club chair attributed to Pierre Chareau